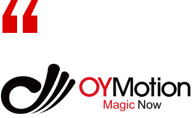 OYMOTION TECHNOLOGIES CO. LTD
Established in Zhangjiang High-Tech Park in 2015, OYMotion Technologies Co.,Ltd. is a high-tech startup in Shanghai. Since its establishment, OYMotion has developed many technologies and products with independent intellectual property rights, and has obtained 55 core patents and 9 software copyrights.
The core technical team has an average of more than 15 years of experience in both software and hardware algorithm research and development. The expert team is made up of doctors coming from the Department of Hand Surgery of Huashan Hospital and Shanghai University of Traditional Chinese Medicine. The team published a pioneering article on hand function restoration in , achieving remarkable outcomes in the field of nerve and upper limb function recovery.
OYMotion Technologies focuses on the research and development of cutting-edge neural sensors, AI recognition technology for neural signals, and human-machine neural interface technology. The products include intelligent bionic prosthetics, intelligent rehabilitation training systems, and wearable exoskeleton products with EEG neural interfaces. OYMotion Technologies is committed to providing cost-effective training and assisting devices for people with movement disabilities.
Adhering to the concept of "Technology empowers new life" , OYMotion Technologies strives to provide users with more intelligent products and professional solutions.